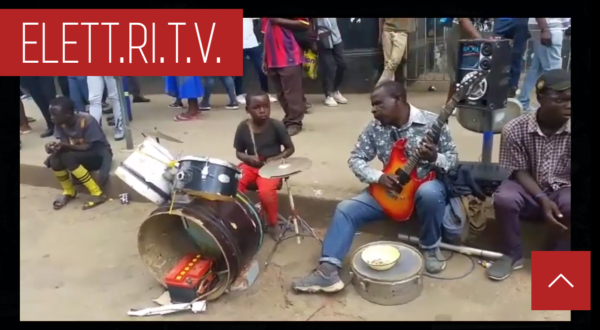 🎥#elettritv📲💻 Daniel Gonora cantante e precursore del genere musicale Sungura dello Zimbabwe. Lui non vedente e suo figlio Isaac suonano musica insieme per le strade dello Zimbabwe negli ultimi 11 anni. Daniel Gonora chitarra elettrica, Isaac Gonora batteria e percussioni [VIDEO], Promise Gonora….[LEGGI]
You Can not Hide From The Truth è un Documentario sul ritratto musicale di una famiglia che lotta per far fronte al duro clima economico e politico dello Zimbabwe. Il musicista cieco, Daniel Gonora, faceva parte del più grande gruppo turistico dello Zimbabwe, la Jairos Jiri Band. Più di 20 anni dopo, suona la musica per le strade con il suo giovane e talentuoso Isaac che improvvisa soli di batteria su tamburi costruiti con materiali riciclati. La loro relazione è messa alla prova quando Daniel decide di perseguire i sogni del passato che potrebbero influenzare la realtà futura di Isaac….
You Can't Hide From The Truth is an award winning intimate musical portrait about a family struggling to make do in Zimbabwe's harsh economic and political climate. Blind musician, Daniel Gonora, was once part of Zimbabwe's largest touring group, Jairos Jiri Band. More than 20 years later, he performs music on the streets with his young gifted son Isaac on makeshift drums. Their relationship is put to the test when Daniel decides to pursue past dreams that could affect Isaac's future reality….
>> Canale [VIDEO] YouTube
>> http://youcanthidefromthetruth.vhx.tv/
🎥#elettritv📲💻 ]; ) ::\⚡/>> Se hai una batteria in soffitta e la vuoi regalare a Isaac, SCRIVI A ELETTRITV