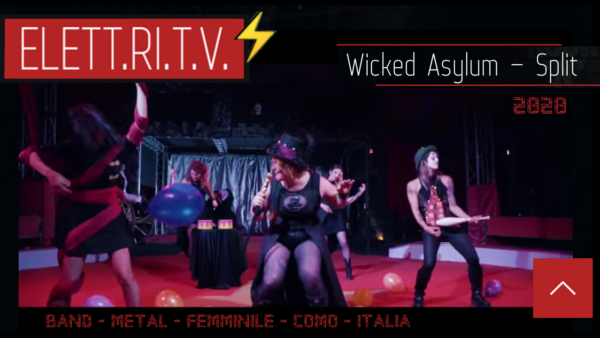 🎥#elettritv💻📲 Le Wicked Asylum sono un gruppo musicale heavy #metal, hard #rock femminile nato nei dintorni del Lago di Como nel 2009, tra la Riserva Naturale Pian di Spagna, e le incisioni rupestri preistoriche dell'Alto Lario.
La formazione nel 2015 cambia e si consolida con Veronica BANSHEE Ferrucci – voce || VIOLA CIOPPA FAI – batteria|| Federica LUNA Arreghini – chitarra ritmica || Federica FADE Mapelli – chitarra elettrica || Chiara Mascetti – Basso, suoneranno oltre che nella penisola italiana anche in altri paesi europei dove sono state molto apprezzate. Nel 2016 pubblicano il loro primo EP "Rebirth" e due video, "In My Soul" e "Silent Watchers".
Nel 2019 finalizzano il loro lavoro sulle canzoni per il loro primo "full length", che uscira' nell'autunno 2019.
"Split" è il primo singolo estratto dal disco "Out of the Mist", cantato nella lingua franca globale "anglofiona", uscito nel 2020 per l'Agenzia Etichetta discografica, Volcano Records & Promotion.
La canzone Split con il video clip, ironicamente come farebbero dei Clown, mette in evidenza della sindrome bipolare e la frammentazione dell'essere che essa comporta. Il circo diviene luogo di maschere e contrasti dove i personaggi recitanti vivono momenti di gloria, di finzione e di riscatto contrapposti al fallimento, alla perdita di controllo e alla disfatta. "Split" è un viaggio nella mente che smaschera ogni tabù, mettendo a nudo la cruda realtà di chi convive ogni giorno con la malattia e i suoi demoni.
>> Canale [VIDEO] YouTube Wicked Asylum
>> https://www.wickedasylum.com
Arte preistorica, itinerari delle incisioni rupestri a Rezzonico, Soriano e Cremia nell'Alto lario.
>> http://www.artepreistorica.com/2009/12/incisioni-rupestri-a-s-maria-rezzonico-e-cremia-alto-lario-como/
Iscrizione in lingua arcaica Leponzia. Antiche scritture del Mediterraneo, Scuola Normale Superiore Pisa
>> http://mnamon.sns.it/index.php?page=Esempi&id=59.