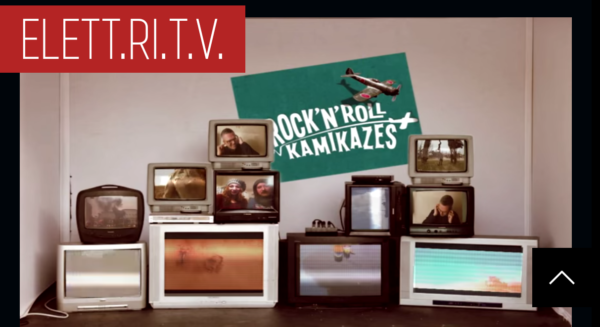 🎥#elettritv📲💻 The Rock'n'Roll Kamikazes: Il progetto nasce nella Romagna, quando Andy MacFarlane, conosciuto per le sue precedenti imprese alla testa dei pazzeschi SPAMABILLY BORGHETTI e soprattutto dei celebratissimi THE HORMONAUTS, con i quali ha lasciato un segno indelebile negli anni zero, incidendo sei dischi e portando la musica del diavolo in radio, televisione e sui palchi dei più importanti locali e festival e distinguendosi tra i frontman più riconoscibili, carismatici ed apprezzati in circolazione, insieme a Peppe de Gregoriis (storico batterista che in passato ha collaborato con band come Little Victor and the Boomers), decide di far capire che bisogna ripartire da dove è nato il tutto, dal Blues appunto.
The Rock'n'Roll Kamikazes portano con sé un'aria nuova, ma hanno le radici piantate saldamente nel rhythm & blues e nel rock'n'roll. "My Town" (Go Down Records-Latlantide), racconta la lotta per salvare Mutonia, la casa della Mutoid Waste Company da più di venti anni è minacciata di sfratto, tra impegno, bellezza, riciclo, arte e sperimentazione, cercando un futuro più sostenibile… [VIDEO]
>> Il nuovo videoclip che precede il Tour '16
"You Can't Stop The Rock and you can't stop The Rock'n'Roll Kamikazes!"
** Stop The Rock ** (OFFICIAL VIDEO HD)
"Stavamo suonando un pezzo del grande Chuck Berry e ci è venuto da scherzare un pò"
>> Tutto sulle date dei Rock 'n' Roll K
>> Parco artistico Mutonia; Sant'arcangelo di Romagna, pronta la convenzione tra Amministrazione comunale e comunità Mutoid.
>> Bologna Repubblica: Interrogazione Mutonia arriva in Parlamento.